Human rights lawyer and defender Nicholas Opiyo has revealed that he flew out of the country to the United States saying he was not sure about his personal safety.
I left in haste and for my safety. I didn't even have the time to bid my family goodbye. I guess y I appreciate the circumstances in which I left," said Opiyo.
Last month, the Director of Public Prosecutions (DPP) Jane Frances Abodo "decided to discontinue proceedings" against human rights lawyer Nicholas Opiyo.
However, Opiyo further noted that he took residence at Havard Kennedy School of Government's Carr Centre for Human Rights Policy for Human Rights Policy.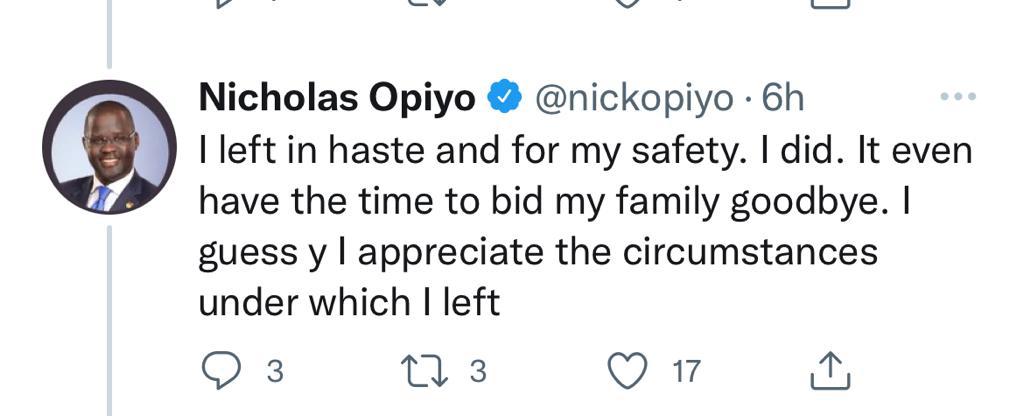 "Let it be settled that I left the country (Uganda) and taken residence at Havard Kennedy School of Government's Carr Centre for Human Rights Policy. Let's re-sharpen the tools for the work ahead. We will be back better and more resolved," said Opiyo.
Opiyo was arrested last year in December by plain-clothed security officers from a restaurant in Kamwokya alongside other lawyers namely Herbert Dakasi, Anthony Odur and Esomu Obure and NUP's Human Rights Officer, Hamid Tenywa
He was later charged before Nakawa Chief Magistrate's Court with 'money laundering and neglect to submit annual returns to the NGO Bureau' before being remanded till December 28, 2020 when his case came up for mention.
The State alleged that on October 8, 2020 at a branch of Absa Bank in Kampala, Nicholas Opio acquired $340,000 (about Shs1.2 billion) in the name of the human rights organization Chapter Four. Prosecutors said at the time, he knew the funds were proceeds of crime.
DPP's decision to withdraw the case came a few days after High Court judge Lawrence Gidudu gave government an ultimatum of seven days to complete investigating the corruption case brought against Opiyo or have the charges against him terminated.