August 22, 2020
No Comment

4 minutes read
NBS TV's Samson Kasumba Condems Police Attack Against Bobi Wine And Son
Celebrated NBS journalist and current affairs analyst, Samson Kasumba has condemned the Friday police actions on Bobi Wine in Kamwokya as he submitted his presidential party forms.
Kasumba cautions that the police is sowing a seed of hate within the young generation. His argument stems from the fact that Hon. Robert Kyagulanyi, a parent was in company of his son, Solomon Kampala at the time he experienced the police unruly attack in Kamwokya yesterday.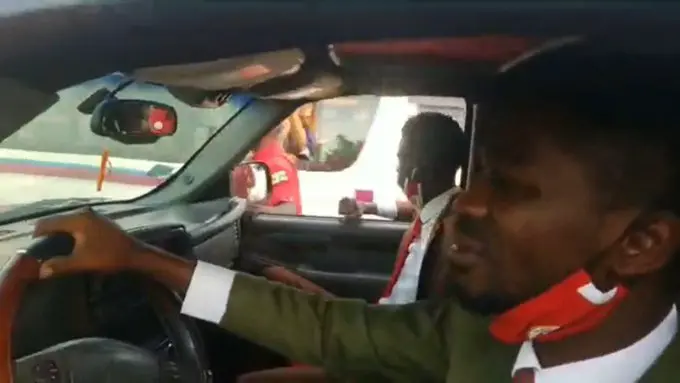 Bobi was on the wheel driving his son just like any parent could do but surprisingly, as he approached police started firing teargas aimlessly placing his son at a high risk because anything could have happened in such a rowdy situation. In March this year, the public watched on in shock after the police afflicted lifetime damage on an innocent student of Lugazi mixed SS, Lowena Rachael Nankya who was returning to school at the time she and the mum rammed into a protest in downtown Kampala.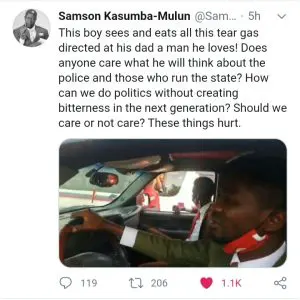 Kasumba warns that a similar scenario was bound to occur yesterday when police engaged People Power supporters and yet Bobi was with his son in the vehicle. Samson Kasumba tweets;
This boy sees and eats all this tear gas directed at his dad a man he loves! Does anyone care what he will think about the police and those who run the state? How can we do politics without creating bitterness in the next generation? Should we care or not care? These things hurt.
However, journalist Hatima Nalugwa Ssekaaya holds a different opinion and in fact blames Bobi for recklessly exposing his child to such harm. In a tweet, Ssekaya says, "I beg to condemn what @HEBobiWine did. You cannot putting a minor's life at such direct stake! It was really uncalled for!," she tweeted.
With the political pressure elevating and the regime feeling the intensity, Bobi Wine is becoming a target as manifested in the Mbale city attack from a top police officer, ASP Abraham Asiimwe who directly sprayed chemicals into his vehicle.