September 30, 2020
1 Comment

5 minutes read
Sodo Aine kaguta Gives Kuteesa's Daughter 'Bloody Nose', Wins Mawogola Elections With Flying Colours
The NRM electoral commission has declared Godfrey Aine Kaguta also known as Sodo , a brother to President Museveni as the winner of the highly contested election in Mawogola North constituency in the ruling party primaries.
George William Katokoozi, the Sembabule district NRM retuning officer on Wednesday night declared President Museveni's younger brother Godfrey Aine Kaguta commonly known as "Sodo" as the winner of the vote, defeating two contenders, Shartis Musherure Kutesa, the daughter of Foreign Affairs Minister Sam Kutesa and Salim Kiseka.
In a close to call election announced by the electoral commission chairperson Dr.Tanga Odoi on Wednesday evening, Sodo polled 17343 votes against Shartsi Kutesa's 16104 votes whereas Salim Kisekka got 4274 votes.
According to the results announced Kaguta beat his closest rival by 1239 votes.
The NRM electoral commission chairperson however urged the winner and losers to reconcile to help develop the area.
"The winner must appreciate others. Try to build synergies and bring together Ssembabule," he said,
The election which was supposed to be held on September 4, was postponed twice over ugly scenes of violence between supporters of both Godfrey Aine Kaguta and Shartis Kutesa Musherure who are both close to the First family.
To prevent any occurrence of the same, top security officials met on Monday to discuss ways of ensuring the election is peaceful.
Consequently, the Deputy Inspector General of Police, Maj.Gen.Muzeeyi Sabiiti and the CID Director, AIGP Grace Akullo camped in the area to oversee security.
On the other hand, the top NRM electoral commission chiefs including Dr.Tanga Odoi also personally camped in the area to monitor the situation in the volatile Ssembabule district.
Earlier, Police mounted several roadblocks at all roads leading to the districts to prevent non- residents from taking part in the election after reports that some party members from other districts had been ferried to vote.
Voting was by lining up, as was the case with other areas where elections for the ruling NRM party flag bearers.
Dr.Tanga Odoi on Wednesday he had received a petition from Musherure challenging Sodo's election as NRM flag bearer for Mawogola North.
He however requested her to give other candidates copies of the petition.
Shartis Musherure Kutesa has rejected the outcome of Mawogola North NRM parliamentary primary election results, saying she was rigged in different parts of the constituency.
Shartis came second with 16,104 votes against 17,343 of Sodo.
"I believe we have not been defeated. We have been cheated, but many times, world over, we know that we should pick up our pieces, fight on and live another day to serve our country," Musherure said immediately after the declaration of results.
"So I will be submitting my petition covering 6 villages where I have major concerns and seeking the NRM Electoral Commission's new judgement. I would like to assure my supporters that this is not the end of our journey," she emphasized.
Asked whether she will consider standing on an independent ticket in the 2021 general elections in case her petition fails to yield results, Shartis said all options remained on the table.
"I will let you know what my decision is on that," she said, adding, "I wouldn't like to say anything about that right now."
Shartis got zero elections at 6 polling stations which was shocking to her.
"It's impossible to not have at least some number of voters. So, a zero vote means that we did not vote and therefore we need to know why," she added.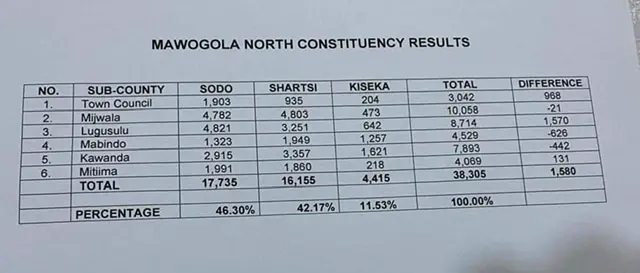 At Kikoma which is one of the polling stations where she garnered zero votes, Musherure said she had polled 345 votes before NRM Electoral Commission chairman Dr Tanga Odoi nullified the results and ordered for a fresh vote.
She said her supporters had already left the polling station by the time Tanga Odoi nullified the earlier results.
"So, I have written my petition to Dr Tanga Odoi's office and I will seek his judgement on that," she said.
The polls were held under tight security manned by police and the military.
The initial election was postponed due to violence and counter accusations of rigging and other electoral malpractices.
Sodo performed well in the town council where he is said to be popular among the youthful urban dwellers.
Musherure won in several rural areas where she concentrated during the campaigns.
She supported youth groups and mobilized for extension of social services in several parts of the constituency.