November 10, 2021
No Comment

4 minutes read
Sudhir Ruparelia lawyers task supreme court to compel BoU to pay costs in crane bank case
Through his lawyers Kampala Associated Advocates, business magnate Sudhir Ruparelia has asked the Supreme to compel Bank of Uganda (BoU) to pay the costs of his suit in the Crane Bank case.
The case was heard in the Supreme Court yesterday and Sudhir's legal team led by Peter Kabatsi said BoU should pay the costs and not its shadow (Crane Bank in Receivership) as the Central Bank lawyers wish. Kabatsi termed this as a manoeuvre to avoid paying costs estimated to be several billions and a miscarriage of justice.
BoU took over the management of Crane Bank in October 2016 and subsequently sold it Dfcu in 2017. BoU and Crane Bank in Receivership sued Sudhir and his Meera Investments, accusing them of siphoning Shs397b from the bank. BoU lost both in the Commercial Court and Court of Appeal which ordered BoU to pay costs.
While BoU lawyers want Crane Bank in Receivership to pay costs, saying the Central Bank was just a liquidator, Kabatsi argues that Crane Bank is not in existence anymore and was closed by BoU.
"It would cause a lot of injustice if BoU lawyers could turn around and say the shadow should bear costs of the suit," Kabatsi said.
He argued that since Crane Bank was closed and ceased being a financial institution under the Financial Institutions Ac, it can therefore not be ordered to pay costs.
Kabatsi said overturning the ruling compelling BoU to pay costs would be tantamount to Contempt of Court.
Sudhir on his part said BoU's move to have Crane Bank in Receivership pay costs would make him suffer irreparable damage as he has already incurred enormous losses because of BoU's actions.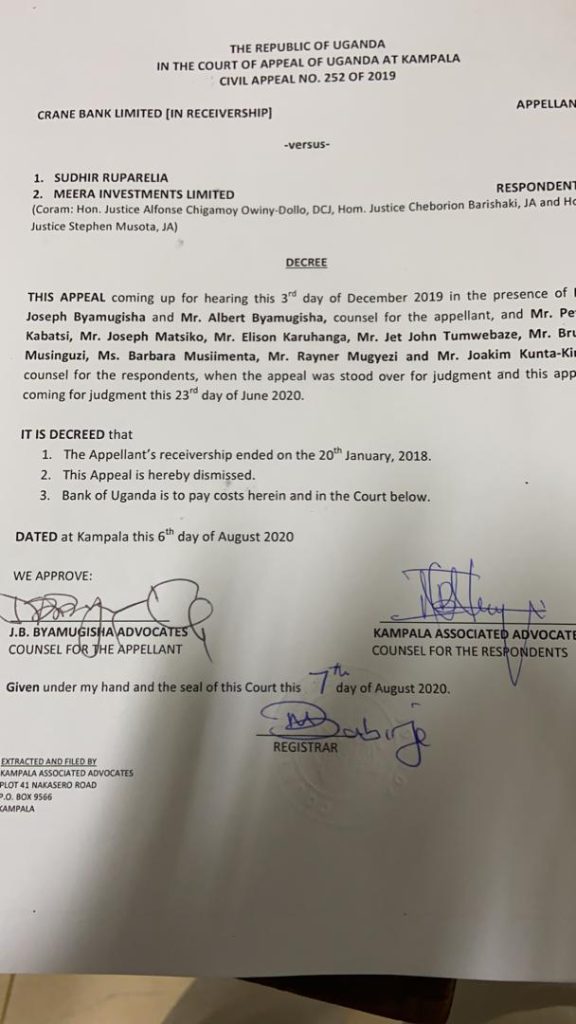 It should be noted that on 6th August 2020, BoU lawyer J.B Byamugisha signed a decree that compelled BoU to pay costs after BoU's Appeal was dismissed. In a complete turnaround, the lawyers now want to avoid the costs.
The Supreme Court says it will deliver the ruling at a later date.