Tesla Inc.'s purchase of $1.5 billion in Bitcoin may have forced cryptocurrencies onto the agenda of corporate treasurers worldwide.
Both have seen their market value skyrocket last year, defying skeptics and thrilling fans. Both are fueled by mass enthusiasm and techno-utopian idealism.
And they've both got plenty of doubters warning a giant crash could be on the horizon.
So when Tesla announced it would purchase $1.5 billion worth of bitcoin on Monday, and that it would accept the currency from customers in the future, it might have been tempting to dismiss this as an outlier  move from a company run by an eccentric CEO.
Tesla getting involved  the fourth biggest company in the S&P 500 and helmed by the world's richest man  brings the discussion to the big leagues.
"We see fundamental reasons for corporate crypto treasury exposure and expect others to follow suit," wrote strategists at Fundstrat Global Advisors including David Grider on Monday, citing increased payment acceptance and the threat of disruption from blockchain. "We don't think this happens overnight, but we do think there's much more room for corporate treasury penetration and expect the trend to continue."
Read Also: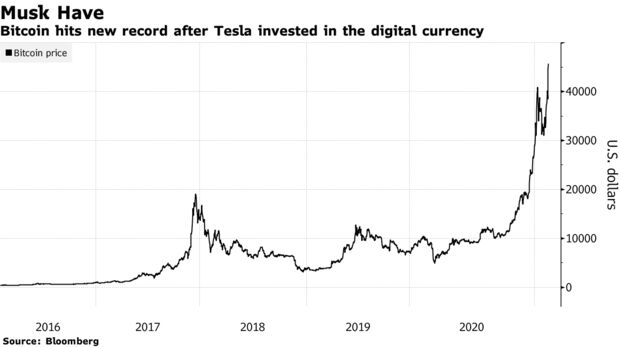 Bitcoin hit a fresh record above $47,000 on Tuesday after Tesla signaled its intent to begin accepting the cryptocurrency as a form of payment. It quadrupled last year and is up another 60% so far this year amid endorsements from high-profile investors like Paul Tudor Jones and companies like PayPal Holdings Inc.